Testimonial of Tripp Hock

Photo by MTU
Meet Captain Tripp Hock, the experienced and devoted captain of Amore Mio.
Tripp Hock has been a captain for more than 20 years and loves his job. His knowledge of how a superyacht should perform is at the highest level. His most recent command is the superyacht Amore Mio, one of the latest superyachts built by Heesen Yachts. Amore Mio, a turnkey project by Tijssen Elektro, is armed with state-of-the-art equipment.
"Tijssen Elektro is a serious company with serious people. The various stages of building Amore Mio went smoothly. At the end, at delivery we received exactly what was specified more than two years earlier, so what better measure is there than that?
Having a single subcontractor for handling the E-installation, the NavCom installation and entertainment installation, made the process more seamless both in construction and after sales support.
"To see the project delivered
so effortlessly was a great pleasure"
Challenges
With Heesen's low profile, the biggest challenge in high-speed boats will always be finding enough room for the voluminous rack space demands of modern A/V systems. Together with Heesen Yachts, you designed a rather ingenious "Adams Family" style lifting staircase to access a rack room layout area more efficiently. Another solution was an ingenious 'switch over mode' between 'charter' and 'off charter'. That meant that in charter mode, the guests get full use of all the media servers, satellite receivers, amps, etc. When they are not on board, a switch is made and instead the crew gets use of these installations in their cabins. This alone reduced that the use of equipment by half.
High end entertainment
I knew that I was handing over the largest and most complex Entertainment System built spec that Tijssen Elektro had done on a boat – so to see the project delivered so effortlessly was a great pleasure.
We added a lot of nice touches for the owner – like a Media Server that enables Cyrillic letters, an enhanced Crew Call page that allows you to order items as opposed to simply summoning a steward, Russian streaming TV coupled with one of the first ever KA VSAT installs (we were part of Telenor's beta testing program), simple iPad GUI pages that are easy for the guests to learn quickly.
"The intuitive tools for controlling and monitoring the boat are clearly a captain's best friend"
Intelligent systems
It's really great seeing the leaps and bounds made by the monitoring systems in the last decade – with a slick, grey, almost "iMPA" feel to it – the ability to control and monitor the boat via these intuitive tools are clearly a captain's best friend.
We added a really intelligent 'man overboard rapid reaction system', placing buttons all over the boat that will simultaneously drop life rings into the water, activate the MOB function on the chart plotter and raise alarms for the crew."
"One exceptional thing to note is that the Tijssen offices are usually just around the corner from Heesen; that was a huge bonus with regard to access and contact during the building phase"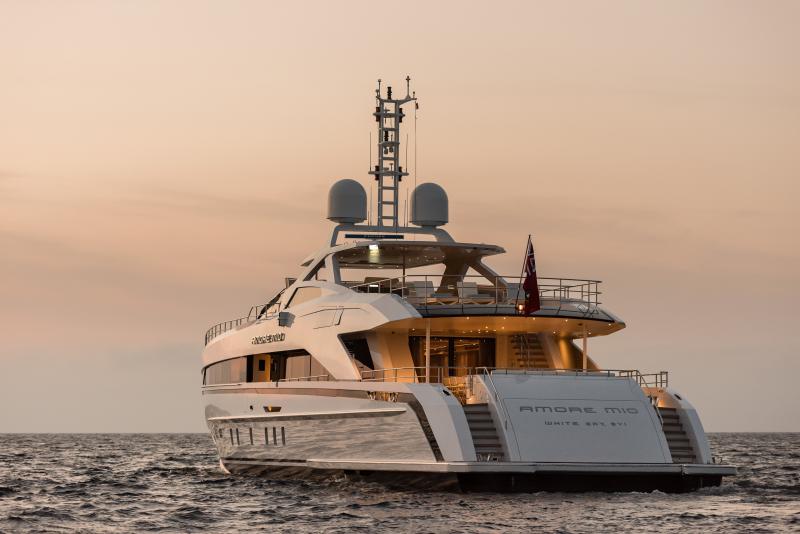 Amore Mio - Heesen Yachts